Scaled Agile Framework (SAFe)

Agility and agile methods help companies meet the challenges of creating high-quality software and systems in the shortest possible development times. 

The Scaled Agile Framework (SAFe) is a way to scale agile processes and operations industry-specific and regardless of the enterprise-size. This scaling is based on the needs of each company and the experience and size of the agile teams. The aim of the agile framework is to create an agile organization that can continually adapt to changes in the business environment and needs.

The Scaled Agile Framework consists of three levels. The portfolio level, the program level and the team level.

The portfolio level decides on strategic topics. Here a portfolio of development projects is managed. The task of the program level is the planning of the so-called Agile Release Train, which consists of many sprints. Here stories and program increments are defined, which are processed at the team level. Likewise the Release Planning takes place here.

The focus of the development team's work is Scrum. Scrum is a procedural model of project and product management and is in particular a procedure model for agile software development. Scrum was originally developed in software engineering, but is independent of it. Scrum is now used in many other domains.
As a Scaled Agile Bronze Partner we are uniquely qualified to support large enterprises and government agencies through every phase of a lean-agile transformation. We provide:
We have multiple persons on our staff who are a Certified SAFe® Program Consultant (SPC) and have experience to lead the adoption of the Framework and launch Agile Release Trains. More information about our SAFe trainers Dr. Jürgen Gamweger, Dr. Werner Leitner and Ing. Gernot Freisinger, BSc, MA can be found on their detailed pages.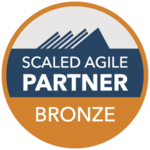 Our certified methodology experts help you in your organization to shape change processes, to anchor agile principles, to introduce self-organization and new roles, key values and principles of SAFe. Current training courses can be found on our academy page or under training & events.

As a certified partner of the Scaled Agile Framework we can offer the following seminars and trainings.
The ideal introduction to the topic Scaled Agile Framework (SAFe)
The presentation "SAFe Foundations" is with over 11,000 downloads one of the most popular presentations of the Scaled Agile Inc. This has now been redesigned and has also been given a new title: "Introducing the Scaled Agile Framework (SAFe) for Lean Enterprises". In particular, the topics "digital disruption" and "agility enterprise-wide" were taken up. The presentation is the ideal introduction to the topic.
 
The copyright is owned by Scaled Agile, Inc. The organization allows the use of the presentation under the following two conditions:
Video Scaled Agile Framework - SAFe 4.6
Dr. Jürgen Gamweger, managing director of successfactory management coaching gmbh and certified Scaled Agile Program Consultant, about Scaled Agile Framework and the novelties of SAFe 4.6.